The first thing most (potential) customers ask is: Are you a real factory and, if so, do you also export and wholesale the jeans?
A bit of Jeans factories History & Philosophy:
Actually, Nice Work Textile has been in the jeans production business for well over a decade now, although we didn't "go international" up until about 4 years ago. Currently we export 95% of our products to just about every continent (except Antarctica) mainly due to smart investments in both international experienced sales management and active internet marketing.
Only 5% is sold domestically to jeans wholesalers or jeans exporters. A nice side-effect of this limitation is that it practically ensures the best quality for our customers, as we do not have any other option but do deliver a perfect product. Selling faulty jeans in the local market is very difficult if one doesn't have a strong relationship with a number of jeans wholesalers in the Bangkok area and most jeans exporters will require nearly impossible mixes of sizes, washings and colors.
At Nice Work Textile we like to do things ourselves. Cutting, sewing, finishing and mostly important: Quality control, is all done on our premises, so that we can guarantee a "best quality" product at all times. As environmental regulations won't allow us to build a washing plant on our grounds, we have been forced to partner up with an existing washing facility, which has been in the business for nearly 25 years. Even though we are a partner in their company and make up about 70% of their business, we still check our garments both before, as well as after the washing process. Why do we do this? Because we want to make certain that we will see you back for a next order!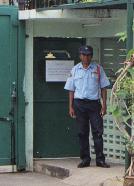 Nice Work Textile is a family company with family values. We hire people with this in mind. We offer all employees the opportunity to be treated like members and to educate themselves about every aspect of the production process at the company.
Our Employees
For example, one of our security guards, his wife and son work for us in several departments. We believe that this benefits the workforce and creates a bond with everyone in the company. All of our full time family members have at least four square meters of workspace and a clear view outside through a 3 square meter window. Salaried employees get free medical care & insurance. The shortest work contract is yearly on.